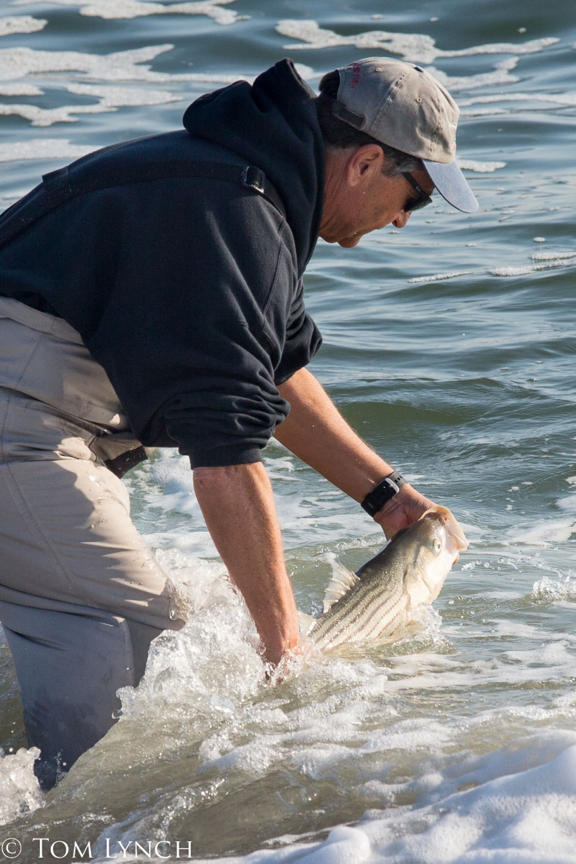 The activities are as follows:
Striped bass, or stripers, make up one of the most important fisheries for seafood and sport fishing on the East Coast of the United States. Carleigh and Chelsea, biology teachers in New Jersey, were at the beach one day when they saw a couple of stripers in the Barnegat Bay Inlet. Both teachers have always been interested in research and even met while participating in a summer research program as undergraduate students. Since then, both have gone on to complete more research projects in biology and education. Their curiosity about striper populations led them to work together yet again!
They headed to Monmouth University in New Jersey, where they began working with two scientists, Megan and John. They learned that locations where fish reproduce are called spawning grounds. Young stripers spend 2-3 years developing in the spawning ground before moving downstream. When stripers become adults, they return to the same location to breed.
There are four main spawning grounds for stripers on the East coast: the Hudson River, the Chesapeake Bay, Delaware River, and the Albermarle Sound. Stripers from these areas are considered to be different stocks. Stripers are migratory fish, and generally move north in the spring and south in the fall. Because they all migrate to New Jersey, fish from different stocks combine, which results in a mixed stock. When there is a population that has a mixed stock, we don't know which spawning ground the fish originally came from. Conservation and management of New Jersey's striper fishery requires knowing where the fish come from. Understanding which spawning grounds stripers are using helps managers make sure we are not overfishing or damaging these important environments. So, Carleigh and Chelsea joined a project that is working to find out how we can identify where mixed stock stripers come from.
For their study, the scientists caught stripers in three different locations off the New Jersey coast in 2017. The fish were sampled by clipping off a small portion of the right pelvic fin. The scientists then extracted the DNA from each sample in the lab. They used polymerase chain reaction (PCR) to then copy regions of the DNA, called microsatellites. Microsatellites are small, repeating sections of DNA that can be variable enough to distinguish even close relatives. These data were then used to compare DNA samples from the unknown mixed stocks to the known spawning ground stocks. The scientists also recorded whether each fish was young or mature. The scientists then used the age data to tell whether the spawning grounds might be changing over time.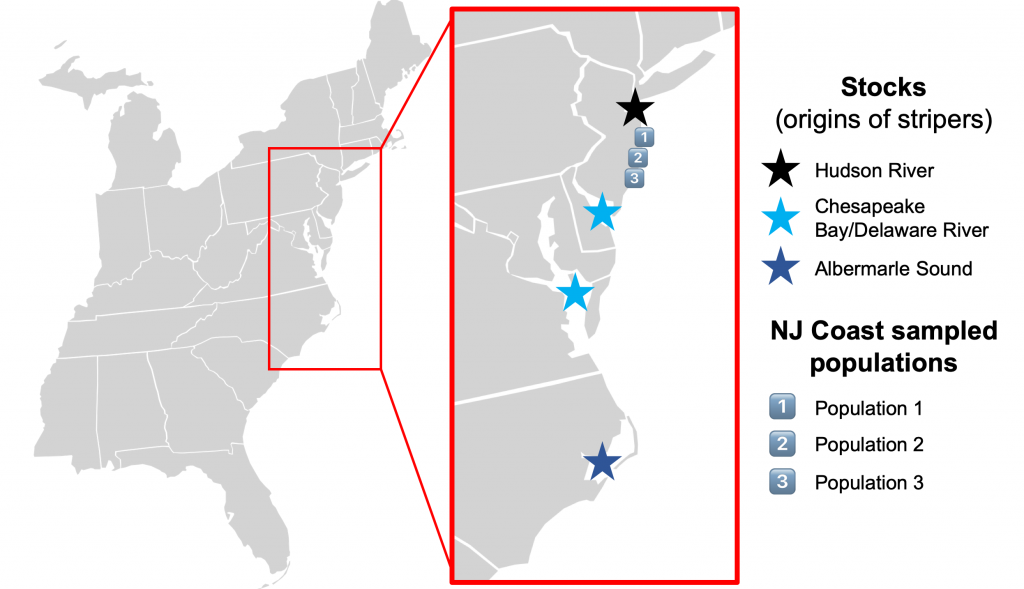 Featured scientists: Carleigh Engstrom, Chelsea Barreto, Megan Phifer-Rixey, and John Tiedemann from Monmouth University