The activities are as follows:
Just as each person has their own personality, animals in the same species can behave very different from one another! For example, pets like dogs have different personalities. Some have lots of energy, some are cuddly, and some like to be alone. Boldness is a behavior that describes whether or not an individual takes risks. Bold individuals take risks, while shy do not. The risks animals take have a big impact on their survival and the habitats they choose to search for food.
Bluegill sunfish are a type of fish that live in freshwater lakes and ponds across the world. Open water and cover are two habitats where young bluegill are found. The open water habitat in the center of the pond is the best place for bluegill to eat lots of food. However, the open water is risky and has very few plants or other places to hide. Predators can easily find and eat bluegill in the open water. The cover habitat at the edge of the pond has many plants and places to hide from predators, but it has less food that is best for bluegill to grow fast. Both habitats have costs and benefits – called a tradeoff.
Melissa is a scientist who is interested in whether differences in young bluegill behavior changes the habitats they choose to search for food. First, she looked at whether young bluegill have different personalities by bringing them into an aquarium lab and watching their behavior. She saw that just like in humans and dogs, bluegill sunfish had different personalities. Some bluegill took more risks and were bolder than others. Melissa wanted to know if these differences in behavior changed how the fish behaved back in the pond. She thought that bold fish would take more risks and use the open water habitat more than shy fish. Bold fish would then have more food and grow faster and larger. She thought that shy fish would play it safe and not take risks, so they would use the cover habitat. Shy fish would then eat less food and not be able to grow as large. Because the bold fish would be in the open water habitat, they might get eaten by predators more because shy fish would avoid predators. These differences in the habitats that the fish use would create a tradeoff based on personality.
Melissa designed a study to test the growth and survival of bold and shy fish. When she was watching the fish's behavior in the lab, she determined if a fish was bold or shy. If a fish took the risk of leaving the safety of the vegetation in a tank so that it could eat food while there was a predator behind a mesh screen, they were called bold. If it did not eat, it was called shy. She marked each fish by clipping the right fin if it was bold or the left fin if it was shy. She placed 100 bold and 100 shy bluegill into an experimental pond with two largemouth bass (predators). The shy and bold fish started the experiment at similar lengths and weights. After two months, she drained the pond and found every bluegill that survived. She recorded survival and size (length and weight) for each fish and noted if it was bold or shy.
Featured scientist: Melissa Kjelvik from Michigan State University
Flesch–Kincaid Reading Grade Level = 7.3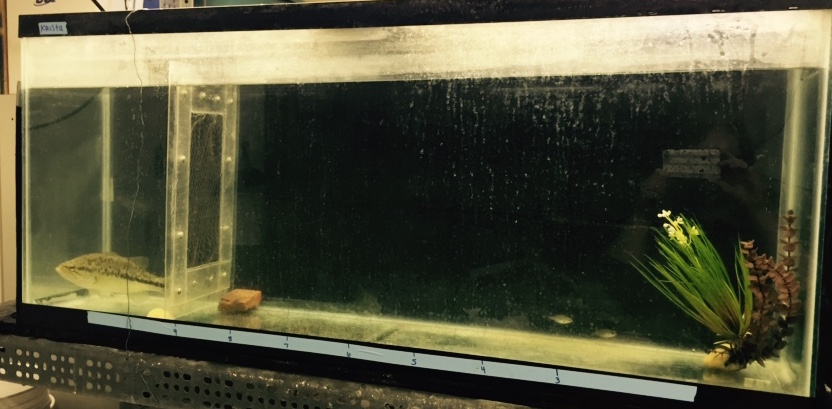 SaveSave