The activities are as follows:
Male animals spend a lot of time and energy trying to attract females. In some species, males directly fight with other males to become socially dominant. They also fight to take over and control important territories. This process is known as male-male competition. The large antlers of male elk are an example of a trait that has been favored by male-male competition. In other species, males try to court females directly. This process is known as female choice. The flashy tails of male peacocks are a good example of a trait that has been favored by female choice. Lastly, in some species, both male-male competition AND female choice determine which males get to mate. In order to be successful, males have to be good at both fighting other males and making themselves attractive to females. Erin is a biologist interested in these different types of mating systems. She wondered if she could discover a single trait that was favored by both male-male competition and female choice.
In horned dung beetles, male-male competition and female choice are both important in determining which males get to mate. Females dig tunnels underneath fresh piles of dung where they mate and lay their eggs. Beetles only mate inside these underground tunnels, so males fight with other males to become the owner of a tunnel. Males that control the tunnels have a better chance to mate with the female that dug it. However, there is often more than one male inside a breeding tunnel. Small males will sneak inside a main tunnel by digging a connecting side tunnel. Additionally, the constant fights between large males means that the ownership of tunnels is constantly changing. As a result, females meet many different males inside their tunnels. It is up to them to choose the male they find the most attractive, and with whom they'll mate. In this species of dung beetle, males try to persuade females to mate by quickly tapping on the females' back with their forelegs and antennae. Previous research has found that females are more likely to mate with males that perform this courtship tapping at a fast rate. Because both fighting and courtship tapping take a lot of strength, Erin wondered if the trait of strength was what she was looking for. Would stronger male dung beetles be favored by both male-male competition and female choice?
To test her hypothesis, Erin conducted a series of experiments to measure the mating success, fighting success, and strength of male dung beetles. First, Erin measured the mating success of male beetles by placing one male and one female in an artificial tunnel (a piece of clear plastic tubing). She watched the pair for one hour, and measured how quickly the males courted, and whether or not the pair mated. Second, Erin measured the fighting success of males by staging fights between two males over ownership of an artificial tunnel. Beetle battles consist of a head-to-head pushing match that results in one male getting pushed out of the tunnel, and the other male remaining inside. To analyze the outcome of these fights, Erin randomly selected one male in each pair as the focal male, and scored the interaction as a "win" if the focal male remained inside the tunnel, and as a "loss" if the focal male got pushed out of the tunnel. In some cases, there was not a clear winner and loser because either both males left the tunnel, or both males remained inside. These interactions were scored as a "tie". Finally, Erin determined each beetles' strength. She measured strength as the amount of force it took to pull a male out of an artificial tunnel. To do this, she super-glued a piece of string to the back of the beetle, had it crawl into an artificial tunnel, attached the string to a spring scale, and then pulled on the scale until the beetle was pulled out of the tunnel.
Featured scientist: Erin McCullough from the University of Western Australia
Flesch–Kincaid Reading Grade Level = 8.8
Additional resources related to this Data Nugget:
---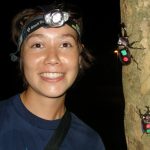 About Erin: I am fascinated by morphological diversity, and my research aims to understand the selective pressures that drive (and constrain) the evolution of animal form. Competition for mates is a particularly strong evolutionary force, and my research focuses on how sexual selection has contributed to the elaborate and diverse morphologies found throughout the animal kingdom. Using horned beetles as a model system, I am interested in how male-male competition has driven the evolution of diverse weapon morphologies, and how sexual selection has shaped the evolution of physical performance capabilities. I am first and foremost a behavioral ecologist, but my research integrates many disciplines, including functional morphology, physiology, biomechanics, ecology, and evolution.