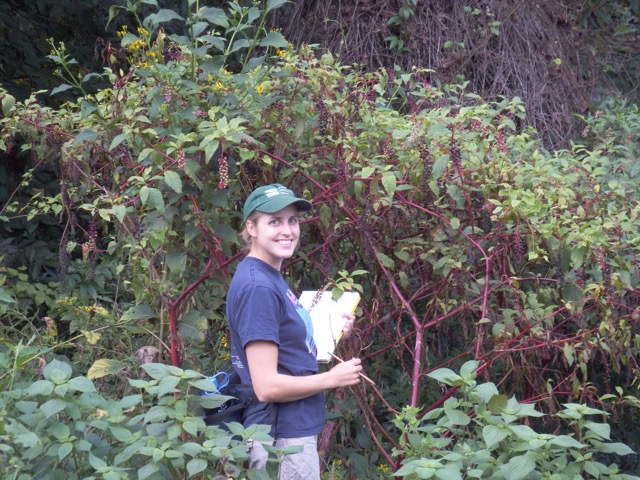 The activities are as follows:
Éste Data Nugget también está disponible en Español:
When travelling to warm, tropical places you are exposed to greater risk of diseases like malaria, yellow fever, or dengue fever. The same pattern of risk is true for other species besides humans. For example, scientists have noticed that crops seem to have more problems with pests if they grow at lower latitudes (closer to the equator). Locations that are at lower latitudes have warm climates. We don't know exactly why there are more pests in warmer places, but it could be because pests have a hard time surviving very cold winters.
Carina is interested in figuring out more about this pest-y problem. She first got excited about plants in school, when she learned that they use photosynthesis to make their own food out of light, air, and water. She thought it was fascinating that plants have evolved so many different strategies to survive. Even though they don't have brains, plants do have adaptations that help them compete for light and mate in many different habitats. Carina continues to learn more every day, and especially enjoys researching how plants defend themselves against herbivores, or animals that eat plants. Herbivores pose a challenge because plants can't run away or hide!
Carina studies ways wild plants can defend themselves against herbivores. What she learns in wild plants could give us ideas of how to help crops defend against pests too. Scientists aren't sure why crops have more pest problems in warmer places, but it would help to understand if wild plants also have the same pattern.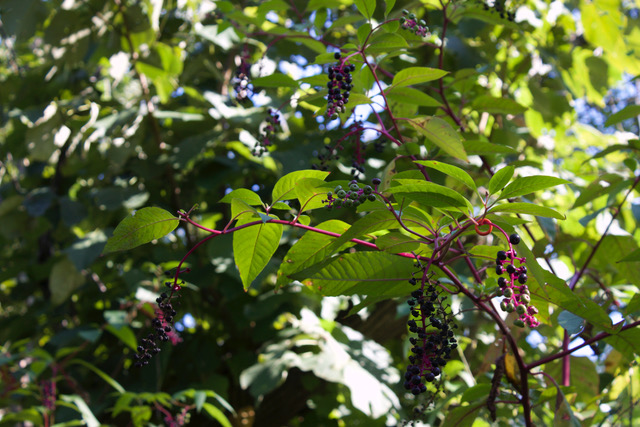 So Carina decided to travel all across the eastern United States to measure herbivory on pokeweed, a common wild plant there. Carina drove a lot for this project! In one summer, she visited ten patches of pokeweed spread out between Michigan and Florida. Carina thought that the pokeweed found at lower latitudes (Florida, 27° N) would have higher herbivory than pokeweed at northern latitudes (Michigan, 42° N) because pests may not be able to survive as well in places with harsh winters.
At each of the ten sites, she marked five very young leaves on 30 to 40 plants. That equals over 1,500 leaves! She then came back six weeks later to measure how much the leaves were eaten as they grew into large, mature leaves. When leaves are young, they are more tender and can be more easily eaten by herbivores (that's why we eat "baby spinach" salad). To measure herbivory she compared the area that was eaten to the total area of the leaf, and calculated the percent of the leaf area eaten by caterpillars, the main herbivores on pokeweed. She then averaged the percent eaten on leaves for each plant. Some plants died in those 6 weeks, so the sample size at the end of the study ranged from 4 to 37 depending on the site.
Featured scientist: Carina Baskett from Michigan State University
Flesch–Kincaid Reading Grade Level = 9.4
There is one scientific paper associated with the research in this Data Nugget. The citation and link to the paper is below.
Baskett, C.A. and D.W. Schemske (2018) Latitudinal patterns of herbivore pressure in a temperate herb support the biotic interactions hypothesis. Ecology Letters 21(4):578-587.