The activities are as follows:
When animals are born, some offspring are able to survive on their own, while others rely on parental care. Parental care can take many forms. One or both parents might help raise the young, or in some species other members of the group help them out. The more time and energy the parents invest, the more likely it is that their offspring will survive. However, parental care is costly for the parents. When a parent invests time, energy, and resources in their young, they are unable to invest as much in other activities, like finding food for themselves. This results in a tradeoff, or a situation where there are costs and benefits to the decisions that must be made. Parents must balance their time between caring for their offspring and other activities.
The severity of the tradeoff between parental care and other activities may depend on environmental conditions. For example, if there is a lot of food available, parents may spend more time tending to their young because finding food for themselves takes less time and energy. Scientists wonder if parents are able to adjust their parental care strategies in response to environmental changes.
Tina is a scientist studying the clown anemonefish. She is interested in how parental care in this species changes in response to the environment. She chose to study anemonefish because they use an interesting system to take care of their young, and because the environment is always changing in the coral reefs where they live.
Anemonefish form monogamous pairs and live in groups of up to six individuals. The largest female is in charge of the group. Only the largest male and female get to mate and take care of the young. Both parents care for eggs by tending them, mouthing the eggs to clean the nest and remove dead eggs, and fanning eggs with their fins to oxygenate them. A single pair may breed together tens or even hundreds of times over their lifetimes. But here is the cool part – anemonefish can change their sex! If the largest female dies, the largest male changes to female, and the next largest fish in line becomes the new breeding male. That means that a single parent may have the opportunity to be a mother and a father during its lifetime.
On the reef, anemonefish groups also experience shifts in how much food is available. In years with lots of food, the breeding pair has lots of young, and in years with little food they do not breed as often. Tina presumed that food availability determines how much time and energy the parents invest in parental care behaviors. She collected data from 20 breeding pairs of fish, 10 of which she gave half rations of food, and 10 of which she gave full rations. The experiment ran for six lunar months. Every time a pair laid a clutch of eggs, Tina waited 7 days and then took a 15-minute video of the parents and their nest. She watched the videos and measured three parental care behaviors: mouthing, fanning, and total time spent tending for both males and females. Some pairs laid eggs more than once, so she averaged these behaviors across the six months of the experiment. Tina predicted that parents fed a full ration would perform more parental care behaviors, and for a longer amount of time, than parents fed a half ration.
Watch video of the experimental trials, demonstrating the mouthing and fanning behaviors:
Featured scientist: Tina Barbasch from Boston University
Flesch–Kincaid Reading Grade Level = 9.4
---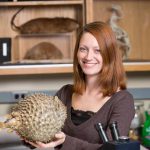 About Tina: I first became interested in science catching frogs and snakes in my backyard in Ithaca, NY. This inspired me to major in Biology at Cornell University, located in my hometown. As an undergraduate, I studied male competition and sperm allocation in the local spotted salamander, Ambystoma maculatum. After graduating, I joined the Peace Corps and spent 2 years in Morocco teaching environmental education and 6 months in Liberia teaching high school chemistry. As a PhD student in the Buston Lab, I study how parents negotiate over parental care in my study system the clownfish, Amphiprion percula, otherwise known as Nemo. More here!
SaveSave
SaveSave
SaveSave