The activities are as follows:
What is a species? The biological species concept says species are groups of organisms that can mate with each other, but do not reproduce with members of other such groups. But how do animals know who to choose as a mate and who is a member of their own species? One way is through communication. Animals collect information about each other and the rest of the world using multiple senses, including sight, sound, sonar, and smell. These signals may be used to figure out who would make a good mate and who is a member of the same species.
Michael is a scientist interested in studying how individuals communicate within and across the boundaries of species. He studies darters, a group of over 200 small fish species that live on the bottom of streams, rivers, and lakes. Michael first chose to study darter fish because the males in these species have bright color patterns during the breeding season. Female darters get to choose which males to mate with, and males fight with each other during the mating season. Females want to make sure they choose a member of their own species to mate with. Males want to make sure they only spend energy fighting off males of their own species, who are competing for the same females. What information do females and males use to guide their behavior, and how do they know which individuals are from their own species?
Across all darter species, there is a huge diversity of color patterns. Because only males are brightly colored, and there is such a diversity of colors and patterns, Michael wondered if male color patterns were used to communicate species identity during mating. Some darter species have color patterns that are very similar to those of other darter species. Perhaps, Michael thought, the boundaries of species are not as clear as described by the biological species concept. Some darter species may hybridize, or mate with members of a different species if their color patterns are very close. If color pattern serves as a signal to communicate darter species identity, then Michael predicted that species with similar male color patterns would hybridize and be more aggressive with each other than species with very different male color patterns.
Michael collected 8 pairs of darter species (16 species in all) from Alabama, Mississippi, Tennessee, Kentucky, South Carolina, and North Carolina and brought them all back to the lab. For each species pair, he put five males and five females of each species (20 fish total) in the same fish tank and observed their behavior for 5 hours. He did this 8 times, once for each species pair. During the 5 hour observation period, he recorded (1) how many times females mated with their own species or a different species, and (2) how many times males were aggressive to their own species or a different species.
Featured scientist: Michael Martin from the University of Maryland, Baltimore County
Flesch–Kincaid Reading Grade Level = 10.5
Videos showing darter behavior:
Darter species used in the experiment: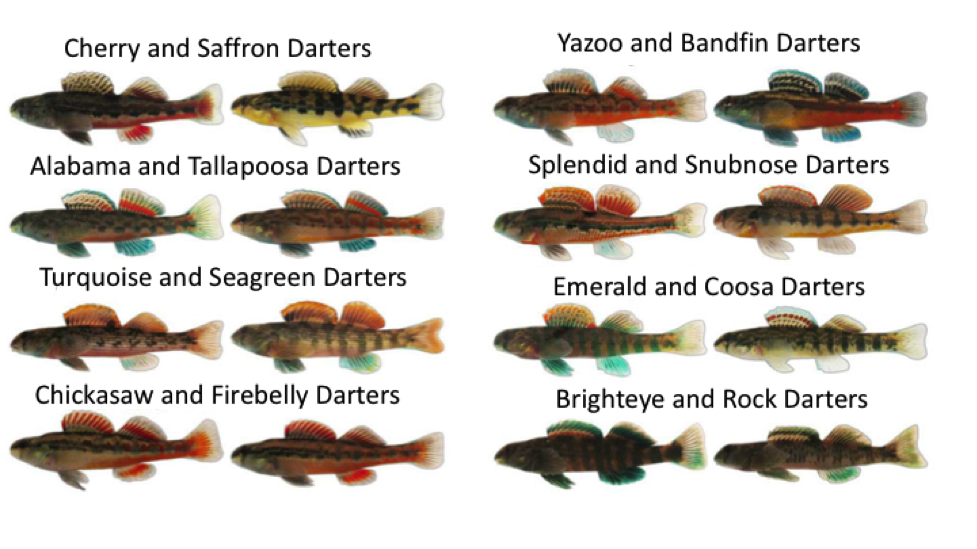 SaveSave
SaveSave
SaveSave