Want to learn more about cutting-edge evolution research? Looking for a way to bring more data into your classroom? If so, come check out the Evolution Symposium: Emerging Research in Evolutionary Biology at this year's National Association of Biology Teachers Conference! This year's symposium will begin with a talk by Dr. Caroline Williams, an evolutionary biologist from the University of California, Berkeley, whose lab studies the question, how do variable environments drive the evolution of metabolic physiology in ectotherms? Climate change research historically focused on summer, and winter climate change was considered mostly beneficial due to amelioration of damaging cold. Her research is shifting this paradigm, and illustrating how variation in winter conditions drive responses of terrestrial organisms to climate change. The talk will be followed by a hands-on workshop, led by Nikki Chambers; Dr. Elizabeth Schultheis; and Dr. Melissa Kjelvik, where participants will go through a Data Nugget activity that can be used to help bring this data back to their classrooms.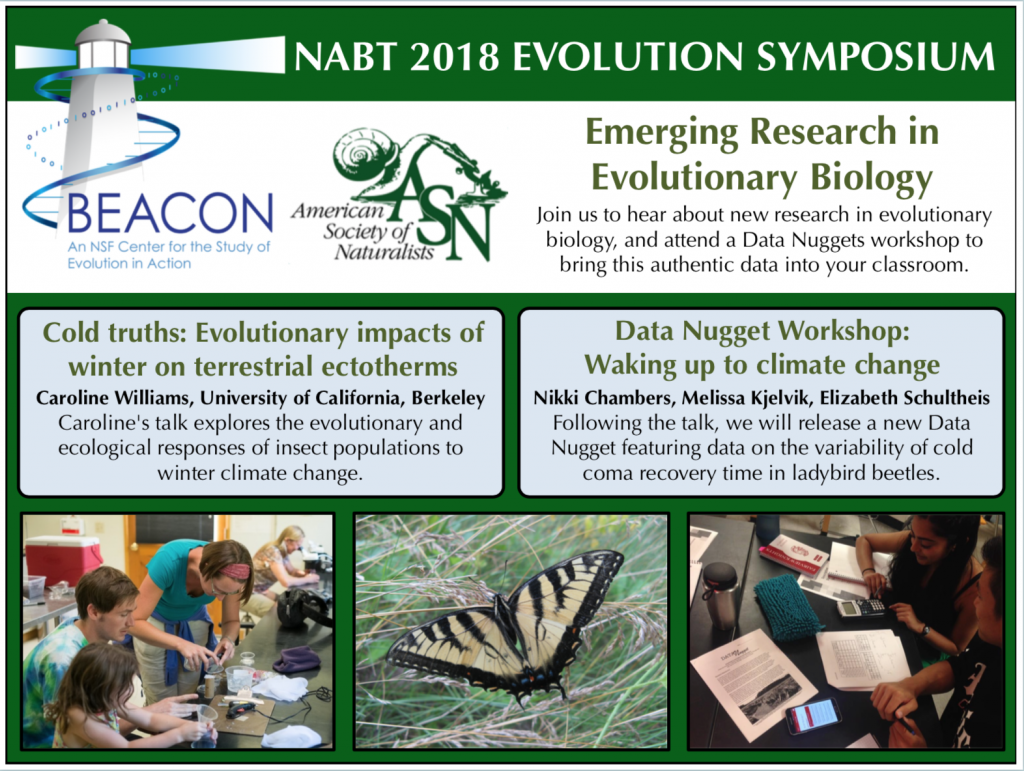 The materials from the Data Nugget workshop are as follows:
Workshop organized and presented by: Caroline Williams, Nikki Chambers, Elizabeth Schultheis, Melissa Kjelvik, and Louise Mead. For more information on the NABT 2018 conference, check out their website, here.
BEACON CENTER FOR THE STUDY OF EVOLUTION IN ACTION, MICHIGAN STATE UNIVERSITY, THE AMERICAN SOCIETY OF NATURALISTS, & UNIVERSITY OF CALIFORNIA, BERKELEY