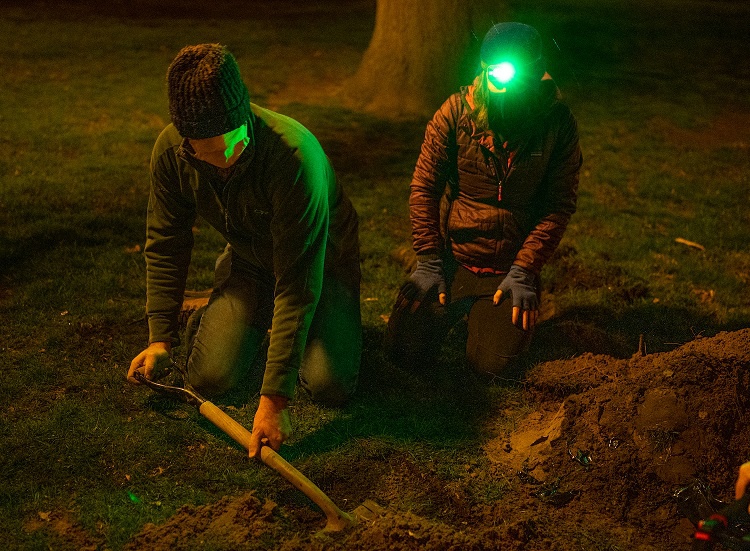 One of the world's longest-running science experiments lies hidden in the soil beneath Michigan State University's campus. Over 100 years ago, a scientist named William J. Beal had a question: how long do seeds survive underground? To find out, he started an experiment. In 1879 he filled 20 bottles with sand and seeds from local plants. William buried these bottles and created a map to document their location, hoping that future scientists would continue to dig them up to test whether the seeds would still grow long after his death.
These bottles and the map have been passed down from generation to generation, with each new scientist responsible for training their successor. To protect the seeds, only a select few scientists are let in on the secret. Today a team of four plant biologists hold the map, and they were the ones to dig up the most recent bottle in 2021. 
Early one Thursday morning, before the sun had risen, the team set out on their mission. Marjorie Weber, the first woman to be in charge of the study and currently the youngest team member, was the scientist who found the bottle and pulled it from the ground. This is a big deal, as back when William began the experiment women weren't even allowed to be scientists!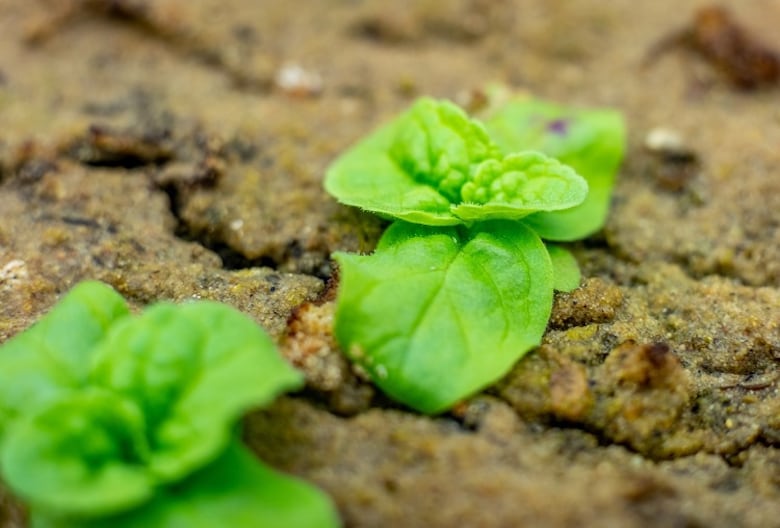 Originally, the Beal Seed Experiment was designed to test seed viability, or how long seeds of different species stay alive in the soil and still germinate. Seeds don't germinate as soon as they fall off their mother plant. They become part of a seed bank below the soil, waiting for the right conditions to tell them to sprout. William was working with local farmers in Michigan, and he was interested in helping them better understand how long weeds will continue to pop up in their fields after they start to plant crops. This is reflected in the fact that many of the species included in the experiment are weeds in agricultural fields.
Despite all the changes that have taken place in the world since the seeds were buried 142 years ago, the main question remains the same: how long can seeds stay alive in the soil? In addition to helping farmers, Marjorie and the other scientists now have additional reasons for wanting to understand seed viability. Restoration of natural plant communities, conservation of endangered species, and removal of invasive plants from fragile ecosystems can all benefit from a knowledge of the seedbank.
With this long-term study design, scientists can compare how many seeds sprout and which species are able to germinate through time. Originally, William dug up a new bottle every five years. Once scientists realized how long the seeds last, they made the interval between excavations longer; now they wait 20 years before digging up the next bottle. The experiment is set to go at least another 80 years. Imagine, future bottles will be dug up by scientists who are not even born yet!
Once a bottle is found and unearthed, it is taken back to the lab to see which species will germinate. Filled with sand and over a thousand seeds, each bottle contains the same mix of 50 seeds of 21 different species of plants. The contents are spread out on a tray filled with soil and are put into growth chambers. Scientists keep an eye on the trays to watch and see what germinates.
Featured scientist: Marjorie Weber from Michigan State University.
Other scientists: Frank Telewski, David Lowry, Lars Brudvig, and Margaret Fleming.
Written by: Elizabeth Schultheis and Melissa Kjelvik.
Flesch–Kincaid Reading Grade Level = 9.7
Additional teacher resource related to this Data Nugget:
This experiment received a lot of press coverage. Have students check out these new stories and videos to learn more about the scientists and experiment:
YouTube video summarizing the search and the experiment: