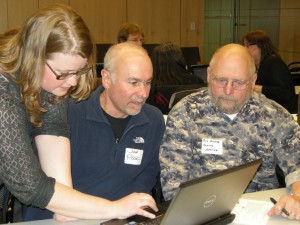 Sharing research findings with the non-science public is an important part of the science process, yet is often one of the most challenging to achieve. With broader impacts a factor in most grants, finding effective methods of transmission is key. Data Nuggets, a GK-12 initiative from the Kellogg Biological Station is a practical, high-impact solution to this conundrum. If you need to increase broader impacts for your research and want to further develop your communication skills, come to our hands-on workshop and create a Data Nugget based on your research!
Data Nuggets are targeted classroom activities that emphasize developing quantitative skills for K-16 students. They are created from recent and ongoing research, bringing cutting edge science into the classroom and helping scientists share their work with broad audiences. The standard format of each Data Nugget provides a brief background to a researcher and their study system along with a dataset from their research. Students are challenged to answer a scientific question, using the dataset to support their claim, and are guided through the construction of graphs to facilitate data interpretation.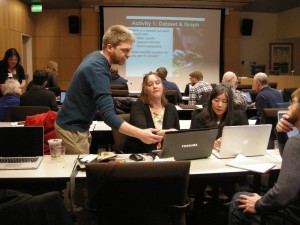 We are currently seeking to add to our collection of Data Nuggets to showcase science done at LTER sites across the country. See examples of LTER Data Nuggets and learn more about our project by clicking on our LTER tag. During the workshop we will walk you through our templates for experimental and observational data, and help you identify a proper dataset, scientific question, and hypothesis for students of many ages. In order to finish a Data Nugget within the allotted time, participants must come to the workshop with a dataset already selected and analyzed.
Workshop info can be found here.
Organizers: Mary Spivey, Elizabeth Schultheis, and Melissa Kjelvik
Monday, August 31st – Working Group Session II