For more information on the NABT 2017 conference, check out their website, here.
For more information on the 2017 Evolution Symposium, check out our blog post here.
Want to learn more about cutting-edge evolution research? Looking for a way to bring more data into your classroom? If so, come check out the Evolution Symposium: Emerging Research in Evolutionary Biology at this year's NABT Conference! This year's symposium will begin with a talk by Dr. Robert Cox, an evolutionary biologist from the University of Virginia, whose lab studies these charismatic lizards, native to Cuba and the Bahamas. While evolution is often viewed in a historical sense, playing out over millions of years, Robert's research focuses on evolution in action that can be observed today. The talk will be followed by a hands-on workshop, led by Aaron Reedy; Dr. Elizabeth Schultheis; and Dr. Melissa Kjelvik, where participants will go through a Data Nugget activity that can be used to help bring this data back to their classrooms.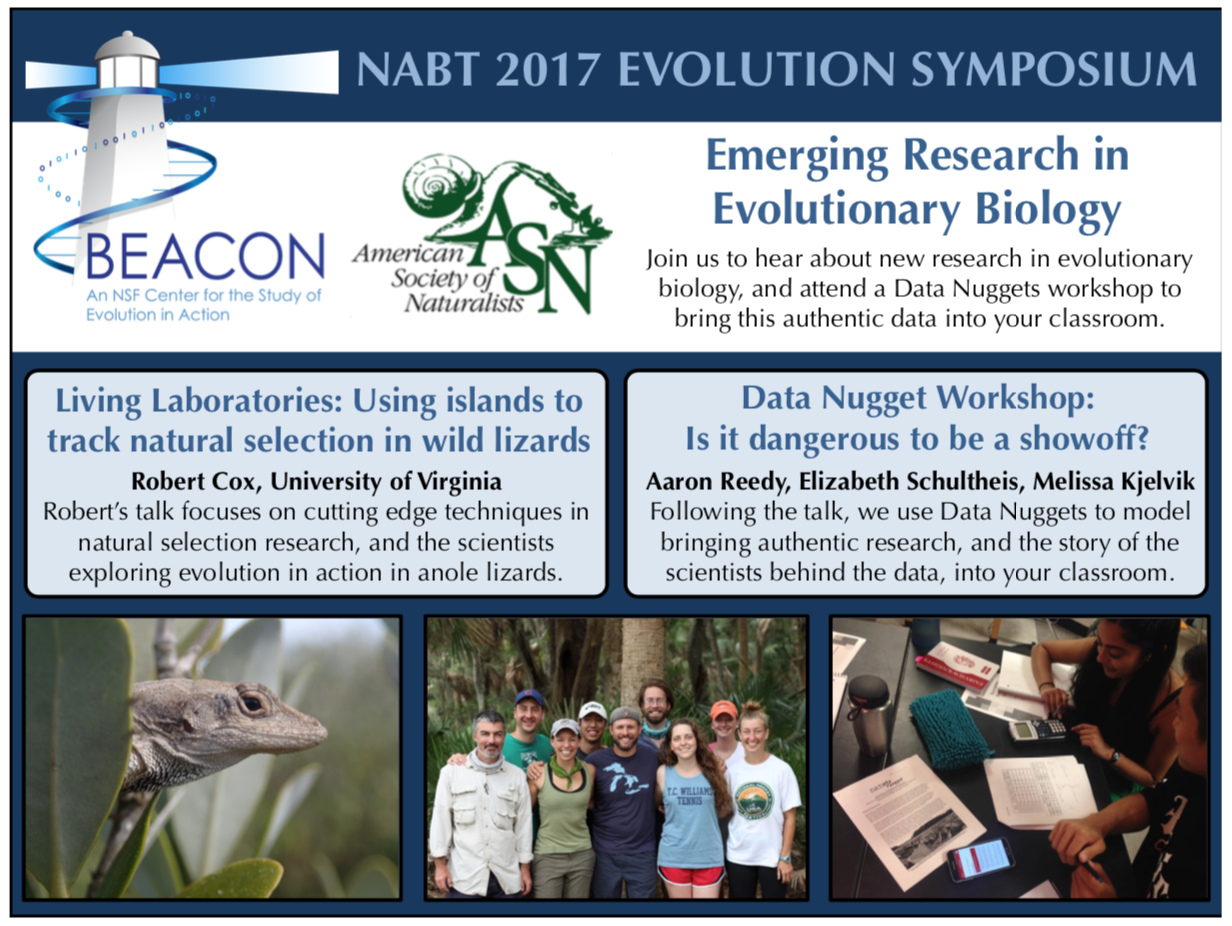 The materials from the Data Nugget workshop are as follows:
Workshop organized and presented by: Robert Cox, Aaron Reedy, Elizabeth Schultheis, Melissa Kjelvik, and Louise Mead
BEACON CENTER FOR THE STUDY OF EVOLUTION IN ACTION, MICHIGAN STATE UNIVERSITY, THE AMERICAN SOCIETY OF NATURALISTS, & UNIVERSITY OF VIRGINIA
SaveSave
SaveSave
SaveSave
SaveSave
SaveSave
SaveSave
SaveSave
SaveSave
SaveSave
SaveSave
SaveSave
SaveSave
SaveSave
SaveSave